Attention, all retired law enforcement officers looking for an opportunity to bring in some extra income, Trikke Electric Patrol Vehicles has the perfect opportunity for you!
Advances in battery technology have paved the way for the development of a new generation of personal vehicles. TRIKKE technology is a superior choice for commercial and professional uses, such as patrolling large indoor and outdoor areas where a car or golf cart is too cumbersome, a bicycle doesn't fit, and walking long distances is too tiring.
Our sales team plays a key role in identifying new and innovative uses for our vehicles, from police to security, parking duty, campus patrol, military uses, and everything in between! TRIKKE makes a difference by drastically improving human mobility. You can be apart of the exciting change we're driving by becoming an independent sales rep.
As law enforcement agencies look for ways to maximize their patrol while saving on skyrocketing gas costs — TRIKKE vehicles are fully electric — there's a huge market opportunity perfect for former LEO to take advantage of!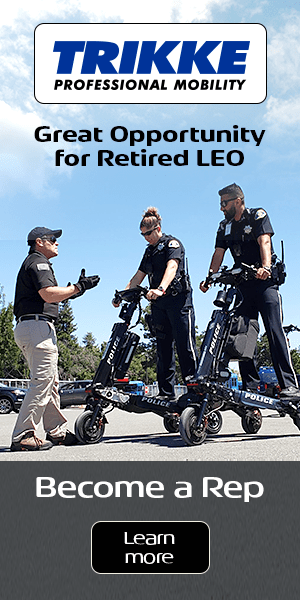 Quiet, clean, simple, and safe to operate, TRIKKE is a truly ergonomic and comfortable ride, low maintenance, and extremely durable. For more than 20 years, TRIKKE has been developing and manufacturing products across the U.S.
Our expanding client list whom you'd be working with daily includes sheriffs and PDs across the nation, as well as colleges and universities, federal and local governments, resorts, casinos, malls, airports, seaports, and private security companies — all of whom have come to rely on TRIKKE's personal mobility vehicles for the best combination of reliability and responsiveness with minimal environmental impact.
Our sales reps earn 15% commission for all accounts they initiate and 10% commission for accounts given to them by the company. Get paid for your sales bi-weekly by check or electronic transfer. No gimmicks or sales quotas to meet! We also give our reps the chance to acquire a demo vehicle at a very special deal.
Contact us today to learn more about our mission of designing and building innovative mobility vehicles that provide the best value in safe and efficient personal transportation – for maximum engagement in our community and minimum impact on our environment.
We look forward to hearing from you soon!
Best, 
Gildo Beleski
CEO