Becoming an Electric Police World
Cars can sometimes cause a disconnect…because the officers spend more time in their vehicles.
The Trikke Positron from Trikke Professional Mobility (Trikke) is a "personal mobility device" that is often used by law enforcement for community engagement. The Positron "offers law enforcement an electric mobility vehicle that bridges the gap between traditional squad cars and foot patrol."1 Featuring a multi-terrain capability with full suspension and an all-wheel drive system, the vehicle can navigate sidewalks, streets, parking garages, and hallways—and allows for a quicker response time than cars in congested areas.
Trikke Positron Set to Make Global Debut at International Police Summit
Trikke, the industry leader in reliable alternative transportation for law enforcement agencies, is thrilled to be an exhibitor at the World Police Summit, the self-described "world's largest convention for policing and law enforcement officials," from March 7-9, 2023, at the World Trade Centre in Dubai, United Arab Emirates. The summit will include over 200 speakers, 250 exhibitors, and more than 15,000 attendees who will explore emerging technologies and cutting-edge solutions designed to redefine the future of policing.
Trikke Professional Mobility – Transforming How Agencies Patrol
The use of electric vehicles has grown rapidly over the years. Electric mobility offers solutions for short trips and low weight as well as long trips and heavyweight. It comes as no surprise that electric vehicles do not have combustion engines, so they stop tons of greenhouse gases from being released, which in return helps the fight against the effects of climate change, and improve people's quality of life as a result. There are plenty of reasons why electric mobility is considered essential to achieve sustainable mobility. 
Efficiency on the Move – Trikke Professional Mobility Mobilizes with Lower Fuel Costs and Quicker Responses
Transparency and trust between law enforcement agencies and the communities they serve are critical to community stability, officer safety, and efficient policing. In addition, police officers, community members, and political officials all play critical roles in advancing positive public safety interactions. At a time when law enforcement is evaluating its policies and procedures to increase community-police engagements, mobility plays a vital role. 
Trikke wants police patrolling cities on these hilarious 45 mph standing electric tricycles
… and they actually look fun enough that I've got a half a mind to enroll in my local police academy, if it comes with a standard-issue patrol trike. The Trikke Positron, which is the trike's official name, is an all-wheel-drive standing electric scooter that very well could have criminals scratching their heads, at least if they weren't already cuffed behind their backs.
Trikke's electric personal police vehicle can transform how your agency patrols
By Police1 Staff
One of the most important components of strengthening a police agency's relationship with the community is engagement. But creating true bonds with the public requires more than sporadic moments of reaching out; it isn't something that should just take the form of one-off community policing events like Coffee with a Cop or town hall meetings.
To truly foster meaningful relationships with the citizens of a jurisdiction, officers need to engage with them daily. Among the more effective ways of creating opportunities for informal interactions is getting cops out of the patrol car and onto the street.
Trikke's Positron electric all-wheel drive personal patrol vehicle enables officers to be out with the citizens they serve while reducing fuel costs and providing quicker response times for beat cops.
Here's why your agency should add the Positron to your fleet:
Sheriff Cocchi Donates Trikke Defenders to the Springfield Police Department
Springfield, Mass. — Springfield Police Superintendent Cheryl Clapprood thanks Hampden County Sheriff Nick Cocchi for the donation of Trikke Defender's for the Springfield Police Department.  The personal electric vehicle can travel on a variety of surfaces and can get up to speeds over 30 mph.
Check out the Trikke Positron Police Tricycle 45 miles per hour
Studies have shown that moving officers from their cruisers to a more accessible mode of transport can lead to more than twice as much contact with the public. the benefits of beating police officers have been evident for years – more impromptu meetings with the public mean that citizens have stronger relationships with officers.
Positron Trike Aims To Humanize Cops, Helps Them Patrol City Streets at 44 Mph
If nothing else, Trikke's unusual patrol vehicle will at least confuse criminals, but chances are, with its insane performance specs, it will also catch them. And according to its manufacturer, this three-wheeler is more popular than you'd think among police departments and private security companies all across America.
Atlanta police set to begin using motorized vehicle in fight against crime
ATLANTA – Atlanta's police chief accepted all-terrain vehicles that officers can use to aid in the fight against crime.
The Downtown Improvement District and the Atlanta Police Foundation have donated three vehicles, called Trikke.
Wheeling Police Department Hits Streets On New Trikke Vehicles
WHEELING — Members of the Wheeling Police Department were turning heads downtown on Tuesday as officers continued training on the newest, cutting-edge additions to the department's bicycle unit. Manufactured by Trikke Professional Mobility, the new Police Interceptor Personal 3WD Vehicles — or trikkes for short — are personal electric vehicles ready for police tasks when a typical police car is not the best option.
WPD Adds Trikke Police Specialty Vehicles
Thanks to an anonymous community donor, the Wheeling Police Department introduced two brand-new specialty vehicles Tuesday that will be unique to law enforcement and community policing.
The Trikke Police Specialty Vehicles or simply "trikkes" are personal electric vehicles ready for police tasks when a typical police car is not the best option.
Wheeling police show off latest vehicles to its fleet
WHEELING, W.Va. — The Wheeling Police Department has added a new vehicle to its fleet, and it's something you won't see anywhere else in the area.
The Trikke Police Specialty Vehicles are battery operated, can get up to 37 miles per hour, and can be used when a police cruiser isn't the best option.
El Centro College Police Add Scooters On Patrol
DALLAS (1080 KRLD) – Police at El Centro College in downtown Dallas are using some new technology to patrol the campus.
Trikke introduces a new generation of Police outreach and enforcement
Segway  patrol electric vehicles have been withdrawn, so Trikke Police Specialty Vehicles provides the perfect option for a new generation of police outreach and enforcement. In the present cultural crisis that the nation is dealing with, regulating the communities, and maintaining people's safety have become crucial. 
As Segway is discontinued, Trikke offers police forces a safer, more powerful electric vehicle to defend the public
In the current cultural crisis facing our nation on many fronts, policing our communities and keeping people safe remains a critical priority, no matter what. Keeping civilians secure and defending the public is the sworn oath of the police force.
DCCCD Police Upgrading To Trikes
We are proud to be among the first in the state to use this new tool for our department.
Norfolk Police Department launches head-turning electric Trikkes
You may have seen them around Norfolk lately. Electric Trikkes are the newest way for officers to patrol the community.
They're turning heads from Downtown to Janaf to Ghent and even Wine Fest.
"Everywhere that you go, citizens stop. They want to know what they are, what they're called, if they can get one," Officer Mitchel Ashton said.
UVA Police Department to Use Professional Mobility Devices
Police at the University of Virginia have a new device to help fight crime. They are called 'professional mobility devices' and the department has been testing them out for the last week and plan to order four more in the next month.
RPD test drives a new innovative vehicle
Last Thursday the Roxboro Police Department test drove new innovative vehicles that could assist with community functions.
That morning officers could be seen in RPD's parking lot test driving Trikke vehicles, which are motorized scooters.
Even the company's representatives, the chief and another officer got in on the fun and test drove the vehicles from Roxboro City Hall to Roxboro Community School and back.
DCHA's Second Annual Summer of Safety Kick-Off Was a Success
"Our communities have seen great success in the past year with our community policing strategies and targeted patrols," Maupin said. "With these new trikes, our officers will be very visible, but also be able to traverse more ground quickly. Combining our efforts with MPD's Summer Crime Initiative will help reduce violent crimes across the city."
Trikke Tech of Buellton launches new professional division
Trikke Tech Inc. of Buellton has launched Trikke Professional Mobility to supply regional and national police agencies, government departments and private security companies with personal electric transportation units, a company spokesman said.
Citrus Heights Police try new "Trikke" tech to stop crime.
You may have seen them out on patrol at Sunrise Mall already. They're the new, threewheeled "Trikke Patroller" electric units — the latest tech deployed by the Citrus Heights Police Department in an effort to minimize crime at the Mall.
School security officer program faces possible cuts
The Scott Police Department provides officers to work as school resource officers at Acadiana High and Scott Middle School. In this file photo from September 2013, a Scott Police Department School Resource Officer shows off his new Trikke vehicle he will use while patroling the campus of Acadiana High. Acadiana High Students Madison Noel and Jordyn Leger are at right
Eight alternative-fuel vehicles coming to Riverbank
The vehicles will come in two models. The first, a Trikke, is a three-wheeled, scooter-like hybrid vehicle. The second, a utility truck, is an electric utility terrain vehicle ideal for the logistical needs of police/security departments.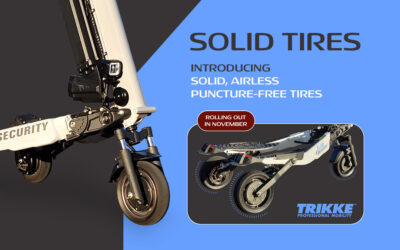 Solid, airless tires: a game changer for lower maintenance security Trikkes. Beginning in November Trikke Professional Mobility will begin offering solid, airless tires for all models of Trikkes, further solidifying the three-wheel electric vehicle as a top-notch...
read more