A mobile vehicle that moves cargo with modular accessories just makes sense, says Trikke Tech CEO.
In today's global economy, delivery makes the world go round. For businesses and consumers alike, expecting a delivery has become a weekly, if not daily occurrence. And because the stakes are so high, much has been done to make the world's delivery systems almost work like … well, clockwork. Still, there are challenges, especially when it comes to the final leg of a package's journey, also known as the "last mile" (of delivery). Currently, that last mile is a bumpy ride: clunky, costly, and inefficient. The problem has been studied, but solutions are still pending.
"There's an awakening for the use of electric-powered cargo bicycles and scooters," says Gildo Beleski, CEO and chief engineer at Trikke Tech. "Many manufacturers now offer models designed with baskets or platforms integrated into the vehicle, all for hauling a multitude of things."
However, Beleski thinks Trikke Tech's three-wheel personal mobility vehicle offers an even better solution.
"We've created a unique and different approach to the task," he says. "Our Trikke Cargo System adds utility to the Trikke in multiple ways without compromising the personal mobility aspect."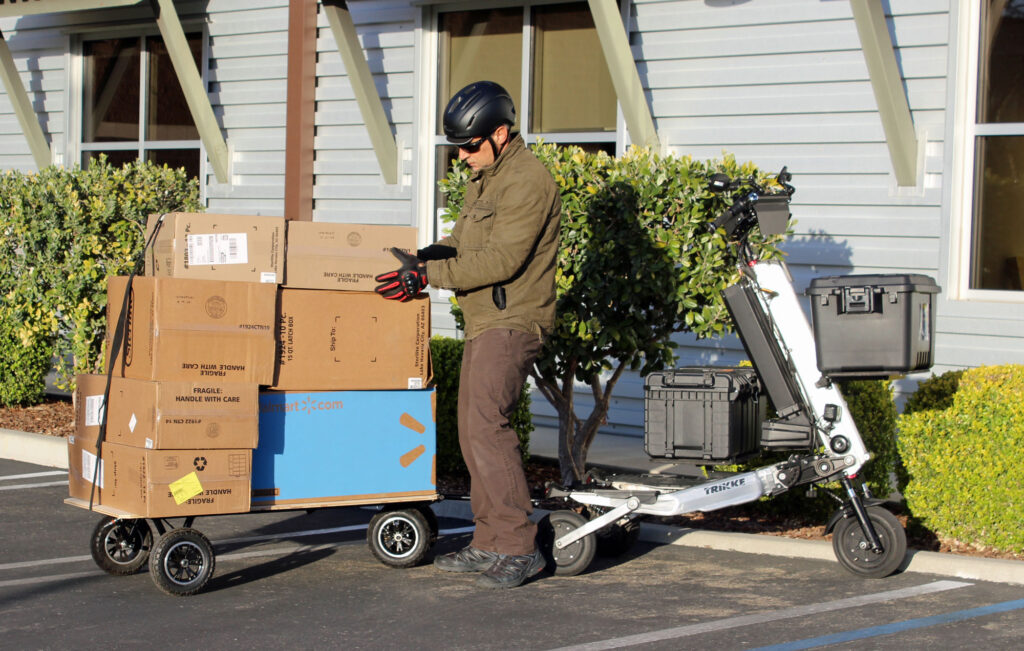 While the three-wheel, battery-powered Trikke is already suitable for many professional applications – including security and law enforcement, emergency services, and business logistics – the cargo system makes the Trikke an even more useful tool for those professions and many more. The key, says Beleski, is modulation:
"Cargo boxes can be added and removed from the Trikke's mainframe in seconds without leaving a trace. Plus, a trailer can be attached, then quickly disconnected and used as a standalone cart."
The trailer itself can be a flatbed or a container model, allowing for a multitude of cart configurations that meet specific needs, such as transporting refrigerated items, hot food, or rescue equipment and medical supplies. (The flatbed model is also available via GSA Advantage.)

"A trailer that can be used as a standalone cart seems to be a better solution over building the cargo feature into the vehicle's body," says Beleski. "This way, for example, one vehicle can move multiple carts to the loading and unloading areas. Or a rider can disconnect from the Trikke and pull the trailer from door-to-door or even indoors."
Modular mobility can make a big difference on so many levels, says Beleski, who's been fine-tuning the Trikke's specs and its many applications for decades:
"Our cargo system accomplishes the last mile delivery task more efficiently than trucks and vans. No idling, no noise or emissions, and very low footprint. Picture a cargo-carrying Trikke driving straight to the pick-up or delivery door instead of double-parking (or parking far away). This represents a key advantage: agility."
That agility isn't just for the last mile delivery, either. Imagine Emergency Medical Services outfitted with an electric Trikke equipped with lifesaving cargo, neatly secured in a Pelican 1460EMS case, specifically designed in conjunction with fire departments and EMS personnel (and something Trikke Tech can install before shipping).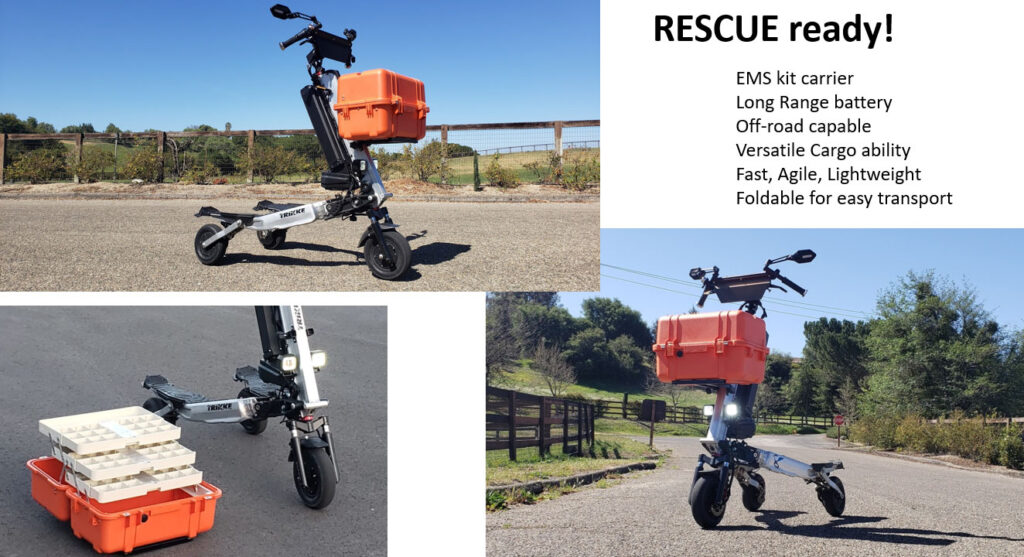 "Trikke vehicles can transport people and cargo efficiently," says Beleski. "The Trikke Cargo System is smart, modular, and can be extremely competitive when compared to cargo bikes. We believe that Trikke, with its unique solution, is well-positioned for the last mile and beyond."
To make the Trikke Cargo System work for you, contact our sales department or call us at (805) 693-0800.