TRIKKE Positron offers critical school security enhancements during this time of unprecedented need.
As school security becomes increasingly vital, TRIKKE is stepping in to help law enforcement and public safety agencies as they face unprecedented challenges to keep students, teachers, and staff safe at school.
Join Trikke as we continue to empower school resource officers by providing enhanced personal mobility beyond traditional patrol vehicles, enabling a much quicker response time for officers to arrive on scene and ready to react.
The Positron is the ideal personal electric patrol vehicle for any type of campus, operating with ease both indoors and outdoors. Conducting inspections and looking for possible threats with an elevated stance well above crowds, parking lots, and fences providing a clear tactical advantage over mounted bike patrols.
The TRIKKE Positron allows officers to patrol the interior and exterior of schools and surrounding neighborhoods while providing critical access to places cars can't go, such as sports fields, cafeterias, gymnasiums, classrooms, and hallways. The Positron is completely silent and won't disturb any classroom or school activity, in addition to allowing school resource officers to establish a constant presence, patrol more frequently, and interact with more people more often. The stealthy non-predictable presence of the vehicle creates a surprise factor.
"The vehicles will help officers move through the campus much quicker than on-foot, therefore minimizing response times in emergencies. They also allow multiple units to converge on the scene in seconds instead of minutes." said Gildo Beleski, CEO.
Patrolling on a Positron offers the following benefits: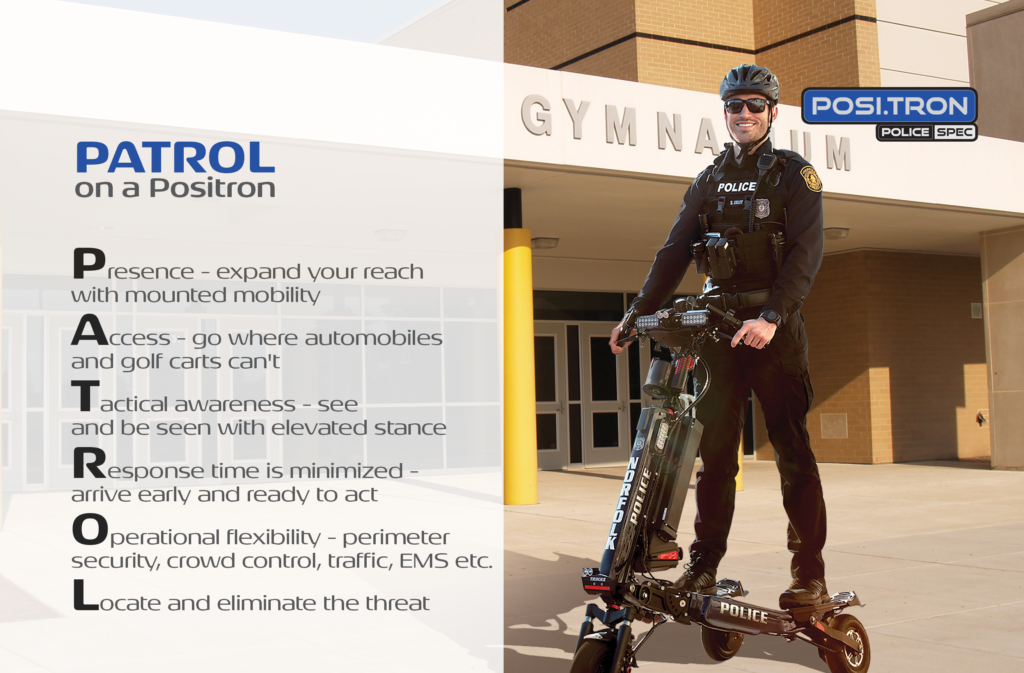 To request a demonstration, or for more information, contact us today.