Trikke Tech, Inc is proud to announce that we are now a GSA Schedule Contract holder, and TRIKKE becomes a preferred source for federal government buyers. This milestone positions the company to earn government contracts by streamlining the ordering process. TRIKKE has achieved a position as the industry's leading manufacturer of innovative personal electric vehicles for professional patrol applications such as law enforcement, military, and industrial security.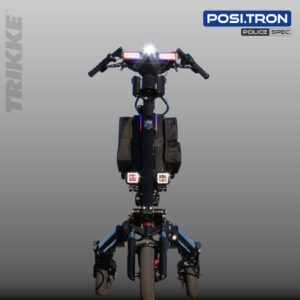 Based in California, Trikke Tech, Inc has over 20 years of experience in manufacturing Trikke Personal Electric Vehicles with its unique proprietary technologies, delivering vehicles with outstanding balance, performance and reliability.
Trikke Tech, Inc maintains a robust R&D program to expand its core vehicle capabilities, working with clients on customized applications, designing and building the vehicles of the future to meet the demanding requirements of professional personal mobility.
TRIKKE's GSA MAS Contract Number is 47QSMA21D08NY. Federal agencies can utilize our company's GSA MAS Contract to efficiently procure Trikke Vehicles at pre-negotiated pricing, terms, and conditions. For more information on purchasing Trikke products through the GSA MAS contract, visit the GSA Advantage website or call us at (805) 693-0800.
"We are very pleased to be positioned as a GSA contract holder," said TRIKKE CEO, Gildo Beleski. "Trikke Personal Electric Vehicles provide enhanced mobility for government agencies and for the modern police force, expanding foot patrol coverage and promoting positive engagement with communities. This award will simplify the ordering process for our clients, saving them time and administrative costs, and providing a quicker turnaround."

About Trikke Tech, Inc.
Trikke Professional Mobility provides the world's top-performing personal mobility vehicles that are spearheading the transformation of electric transportation. These multi-terrain, highly customizable vehicles are made in the USA, with specialty designs for efficiently moving around large campuses, congested public areas and events, and tactical patrol. Trikke's growing domestic and international client list includes police and sheriff departments, colleges, university and medical campuses, state and federal governments, military, Air Force and Navy bases, airports, seaports, and private industry. Each has come to rely on Trikke's personal mobility vehicles for the utmost in reliability, performance, safety and positive environmental impact. For more information, contact Trikke at (805) 693-0800 or email us at sales@trikke.com. To learn more, visit our website www.trikkemobility.com