Front wheel drive, 700W motor
Powered by quick-swappable 48v 11.25Ah li-on battery
Up to 20 mile range
16mph top speed
2 rear wheel drive, 1200W motor
Powered by quick-swappable 14.5Ah li-ion battery
All-wheel disc brake
Up to 20 mile range
20mph top speed
All-wheel drive, 2000W motor
Powered by quick swap 48v 20.3Ah li-ion battery
Full suspension
Up to 30 mile range
28mph top speed
Trikke vehicles have distinct advantages:
Performance: Take corners at full speed and easily make u-turns in the space of a narrow sidewalk thanks to Trikke's patented cambering frame design.
Easy to Maintain: Rugged yet simple = low maintenance
No Downtime: Quick swap battery in seconds, increases operational time
Portability: Folds down in seconds to fit into the back of any size vehicle. Makes it much easier to deploy.
Easy of Use: Intuitive and ergonomic design reduces the learning curve and makes it enjoyable to use for hours an end.
…And our pricing is yet another way we excel in the patrol marketplace.
Trikke's patented design can help by:
Improving response times and increasing officer presence
Expanding accessibility (ability to get through doors, on escalators and elevators)
Expanding coverage, quick swap batteries for continual us
Ease of transporting, portable and can fit in most trunks
Build community relations
…all at a lower purchase price and maintenance cost than our competition.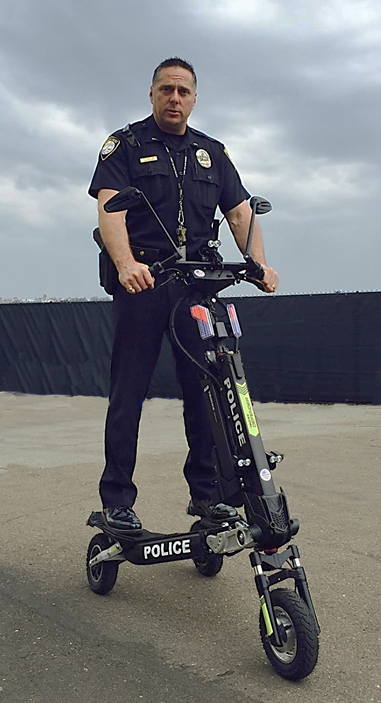 Why Law Enforcement and Security Professionals Like It:
Folds down in seconds to fit in the back of any size vehicle. Much easier to deploy in multiple locations.
Easily navigates through crowds, hallways and doorways. Take up and down curbs, on escalators and in elevators.
atural riding experience reduces training period. Comfortable to ride for hours due to ergonomic design.
and more...
Three points of contact and patented cambering (leaning) frame adds confidence and stability at all speeds.
Swap out battery in seconds – increases operational time. Compact battery and charger fits in tight spaces.
Increased height provides better line of sight. Highly visible presence reduces potential crime.