2 rear wheel-drive, 1200W motor
Powered by quick-swappable 14.5Ah li-ion battery
All wheel disc brakes
Up to 20 mile range
20mph top speed
Patroller 2WD offers and affordable mobility solution to your needs that increases productivity, improves efficiency and reduces expenses.
The most versatile portable, sustainable patrol vehicle in the market. Flexible mobility and quick response times can be achieved simultaneously. It allows access to areas where patrol cars cannot go, providing enhanced police presence and protection.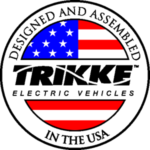 "During the procession, the Trikkes gave a smooth ride and gave easy access through crowd. Whether escorting the parade or maneuvering through the group of people, visibility of the crowd was enhanced as the Trikke gave considerable height to the operator of the Trikke. Once the Peace March was completed, the Trikkes were compacted down without difficulty and placed in the rear trunk of our vehicle. It is with these reasons that I believe Trikkes will be an asset to any law enforcement agency."
Lori Lelis - Superintendent, Cicero Police Department
Population 84,000
"We are always trying to find better ways to increase deputy presence throughout the Solano College campus in an effort to better serve our students. With these electric patrollers, our deputies are more accessible to our students than driving in a patrol vehicle. We can better find and prevent crime from happening in alcoves and passageways. Why not just walk? We will still do th…at too but this new tool helps our deputies save time and get through pedestrian corridors faster. It is an emission-free mode of transportation that will help us enhance the service to our students."
Solano County Sheriff's Office
Fairfiled, CA
"It is maneuverable enough to make u-turns in elevators and drive it through airline queue lines."
"The placement of the rider's feet on the foot pedals makes it easy to know where the rear and sides of the Trikke are."
"Great for indoor and outdoor use. Narrow enough to easily pass through an interior doorway."
"It is easy to see over people as you ride around or through crowds."
"Great mobility, quick response when needed. Allows greater visibility, easy to maneuver."
"Lots of questions about it from customers. Lots of 'That's cool!'" Sacramento Airport Sheriff's Department